Strong & Innovative Laminate
Laminate Flooring in Lewes, DE
Give any room in your home the flooring of your dreams. At OC Floor Gallery, we offer an unbeatable selection of laminate flooring at budget-friendly prices. Our laminate selection comes in a variety of styles and colors to suit all personal tastes. Achieve the look you want for less by choosing laminate flooring for your upcoming renovation.
When you visit our showroom in Lewes, DE, you can browse our laminate flooring selection. Our laminate is both high-performing and low-maintenance and designed to improve comfort, style, and practicality. Whether you know exactly which laminate you want for your home or you need a little inspiration to decide, choosing a laminate flooring will give you the style you want at a price you'll love.
Benefits of Laminate Floors
Laminate easily lets you upgrade any room in your home. Our team of knowledgeable associates can guide you through design options with all of the colors and textures of laminate you can imagine. Laminate is easily maintained, beautiful, and durable. You can get the authentic feel and appearance of high-end floors with this strong flooring solution. Whether you are looking for laminate that looks like wood or tile, our laminate selection can easily meet your needs. We commonly recommend laminate floors for homeowners interested in flooring that is both pet and family-friendly. Other benefits of the laminate that we offer includes:
Available in numerous designs and colors

Cost-effective alternative to other flooring types

Easy to clean with regular sweeping and mopping

Requires minimal maintenance

Resists scratching, dents, and cracks as well as other forms of damage

Repels stain, moisture, and mold in rooms prone to moisture
At our showroom, we offer a wide selection of laminate including laminate planks and tiles. Learn more about our selection:
Laminate Plank Flooring
Laminate planks allow you to get the same traditional look as hardwood flooring, but with a much stronger flooring solution. You can choose from a variety of wood grains in order to match the style that best suits your tastes. From rustic to modern, our vast selection has the right laminate flooring choice for you.
Laminate Tile Flooring
The benefits of tile-look laminate include ease of cleaning, durability, and versatility. Stone and tile add a richness to any living space and our laminate is able to replicate that. Each functional element offers the elegance of traditional ceramic, porcelain, or stone tiles. Choose from a vast range of designs and patterns.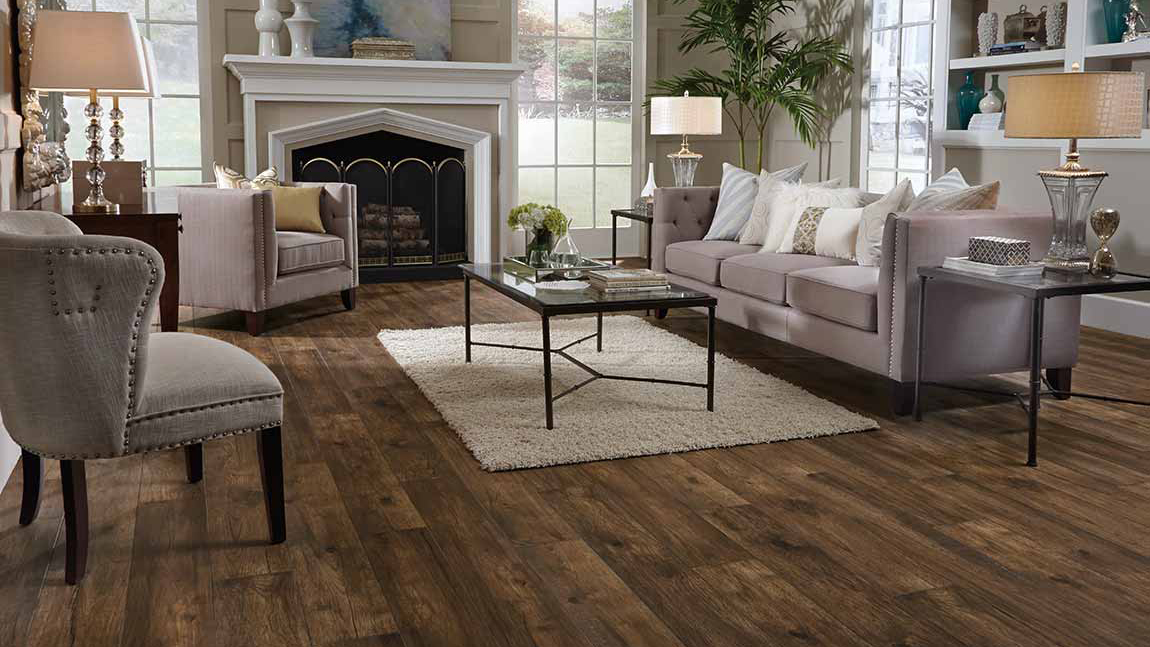 Maintaining Your Laminate Floors
Experience the difference laminate floors can make in your home. In addition to its wide range of colors and finishes, laminate is a low-maintenance flooring material that offers easy upkeep. While other flooring materials require periodic refinishing and touch ups, this product requires very little of your time, care, and energy. Simply keeping it clear of debris with occasional sweeping and mopping is all you need to extend the look and lifetime of these floors. We recommend using a laminate-cleaning product for best results.
Affordable Laminate Flooring Installation
As your all-in-one flooring store, you can trust our in-house installers to put in your new flooring. Once you choose your new laminate flooring, we will schedule a time to perform the installation that works with your timeline. Our professional expertise and flooring equipment ensure the entire installation process is quick and easy so you can rest assured. We will work around your schedule and give you the most affordable rates.
When you choose us to install your floors, we will ensure that you get outstanding results. We know how to do every step of the installation perfectly. From preparing the subfloor to laying down the laminate materials, everything is done with precision and care. Once we finish the installation, you can expect your new flooring to be securely attached and seamlessly fit the perimeter of the room. Our installation services will make your new floor look great and last longer. Our promise of a quality job is backed by our Ultimate Confidence Guarantee, which assures any necessary repairs relating to installation are free of charge within 30 days of your installation.


Contact us to learn more about our laminate flooring selection and installation services. We proudly serve customers in Lewes, Rehoboth Beach, Millsboro, Dewey Beach, Bethany Beach, DE, and the surrounding communities.