Strong & Classic Tile For Your Home
Tile Flooring in Lewes, DE
When you are looking to redo your flooring, make sure that you choose a flooring type that will improve the appeal of your home and that is attractive as well as functional. Choose tile from OC Floor Gallery for your upcoming flooring project. Replacing old and worn floors can increase home value, as well as enhance interior designs. By choosing one of the tile flooring options that we have available at our showroom in Lewes, DE, you can achieve impressive results that don't disappoint.
From selection to installation, and every step in between, count on us to guide you through the entire flooring replacement process. When you shop our selection, you'll choose from many reputable tile brands known for their durable and stylish designs. The following are just some of the well-known names you can expect to see amongst our selection of porcelain, ceramic, and stone tile:
Spotlight Values

Floorcraft

Emser

Mohawk

Shaw

Daltile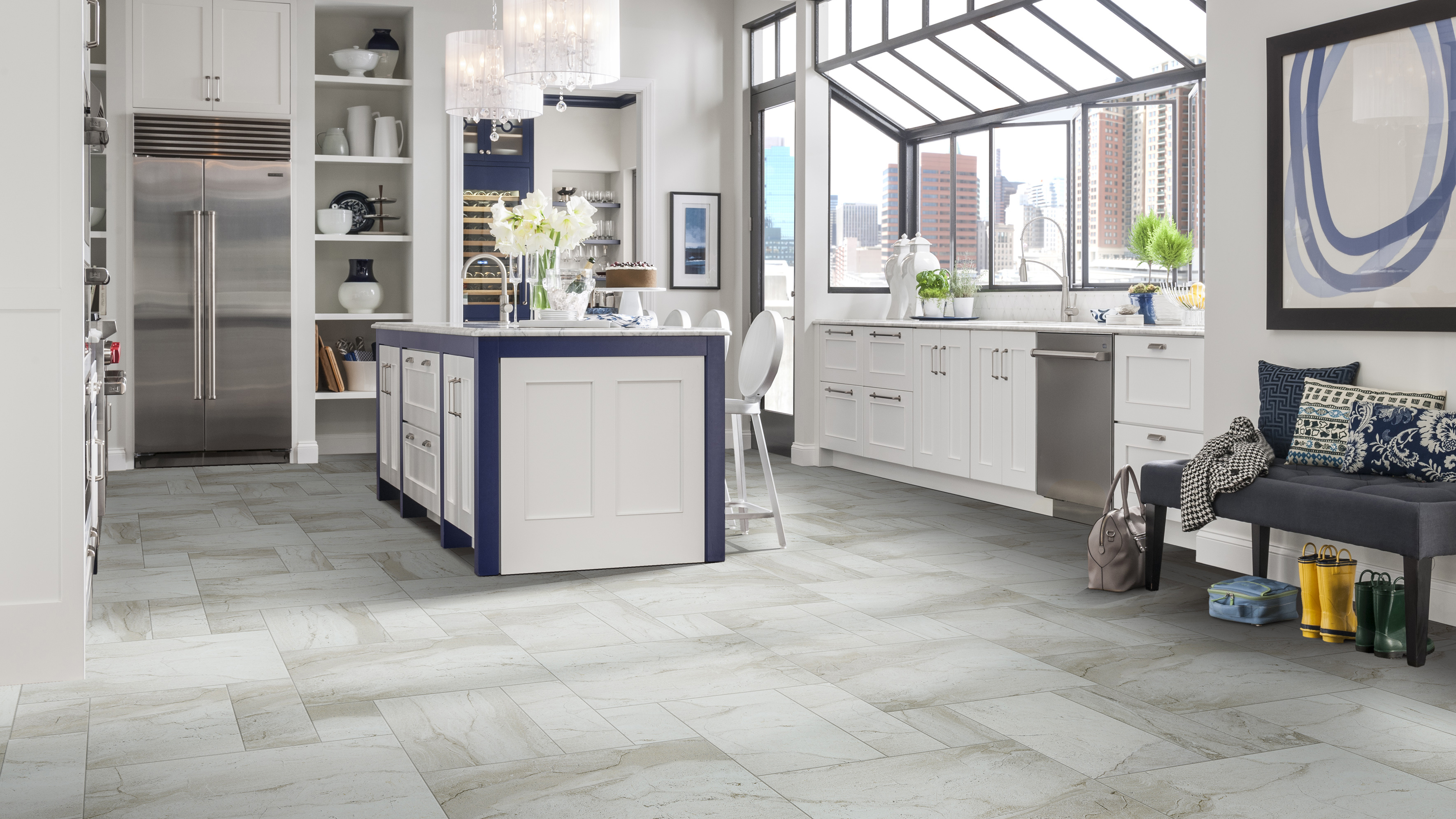 Tile Flooring For Any Style
Ceramic
Ceramic combines beauty and durability, which results in a stylish and efficient package. Resistant to moisture and scratching, ceramic tile is durable enough to withstand the wear and tear of daily traffic. This type of tile is an ideal choice for kitchens and bathrooms. It is made by firing natural materials in a kiln, followed by a cooling period. It can be left either unglazed or glaze-coated once it has cooled. When properly sealed, the surface of the tile is protected against water.
Porcelain
Porcelain is a type of ceramic that is made from finer, denser clay that is fired at a hotter temperature. The result is an extremely strong, firm tile that is popular for use in bathrooms and kitchens. It resists all types of stains and harm from everyday wear and cleaning solutions. Porcelain tiles can typically be used both indoors and outdoors, which makes this product more adaptable.
Stone
Stone tile is a natural material that is both durable and beautiful. This type of tile adds an organic feel to any room you choose to place it in. You can even use this type of tile outdoors for a patio. Our high-quality stone tile is treated and sealed to make it waterproof and resistant to stains. One of the major advantages of this type of tile is that it retains heat well.
Durable Wood-Look Tile
Wood-look tile gives you the opportunity to have floors that look timeless but are also strong and durable. Hardwood flooring has long been a popular flooring option, but wood-look tile is the ideal alternative for those looking for a flooring type that is easier to maintain. If you're searching for contemporary white oak or distressed hardwood, our line of wood-look tiles has everything you need for your design plans.
Solid hardwood floors are not the ideal choice for rooms that are exposed to a lot of moisture, like kitchens and bathrooms. This is because they can warp when they come into contact with any moisture or standing water. Wood-look tile is water-resistant so it will provide you with the protection you need. With its wood plank style, wood-look tile can come in the appearance of well-known wood species such as mahogany, pine, oak, and more. With its solid surface, wood-look tile repels dirt, water, dust, and other stains. This makes cleanup easy, letting you save time and energy for what matters most.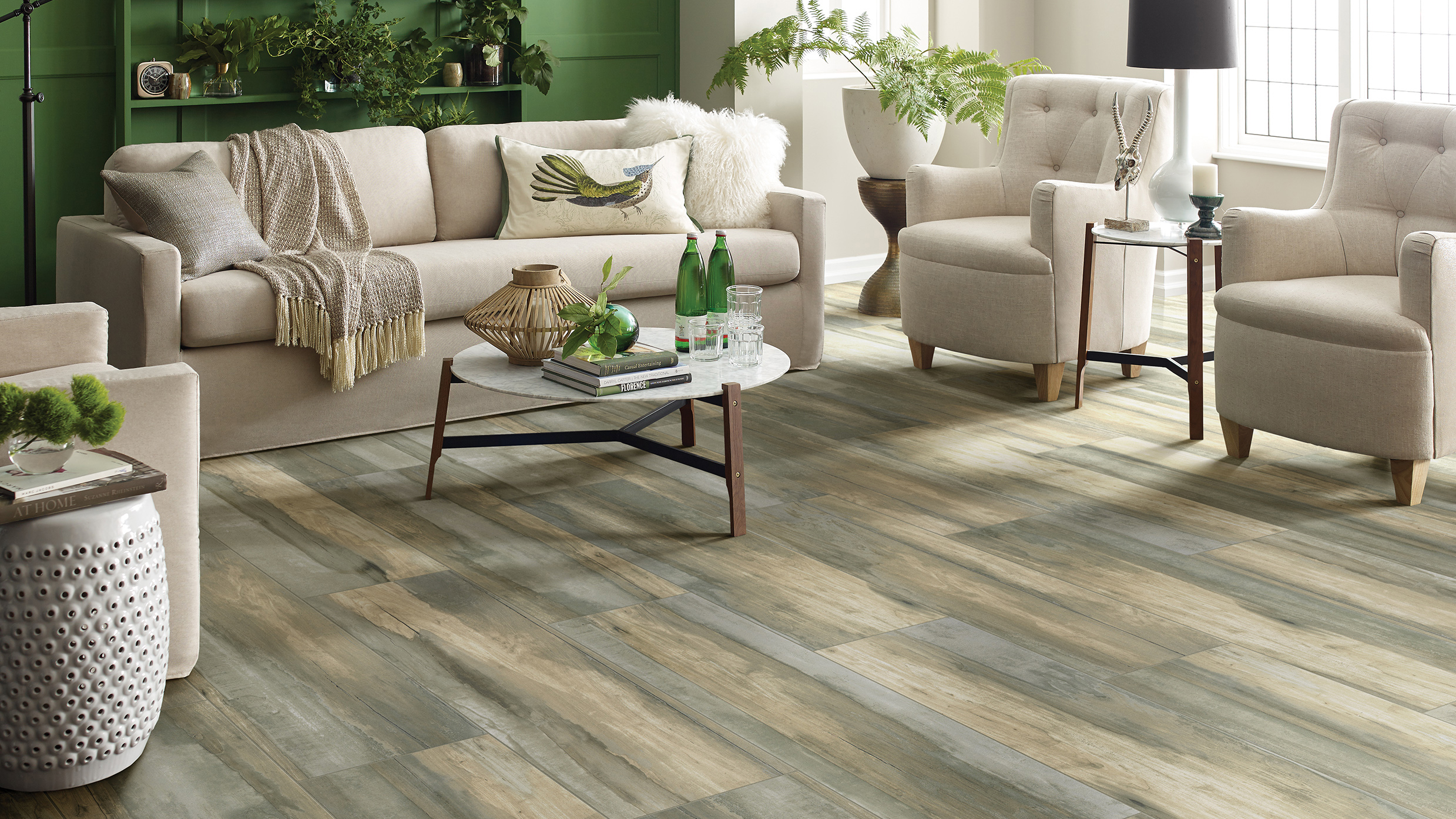 Easy Maintenance
Active families with children and pets will be amazed at how easily tile can be maintained and cleaned. Tile floors repel allergens, pollen, and dander, providing seasonal relief. Regular clean-up can be done with a weekly wet mop and regular sweeping or vacuuming. For a heavy-duty clean, strong solution all-purpose cleaners can be used on glazed tiles, while unglazed tiles can be treated with paste, water, and scouring powder. We recommend checking out your tile's warranty before using any cleaners with harsh chemicals.
Installation You Can Trust
Ensure your new tile floors look great far into the future by entrusting the installation to our capable team. Our commitment to your satisfaction doesn't end when you make a purchase. We understand that quality installation is just as important as choosing a quality product, so we are proud to deliver long-lasting installations on your behalf.
Our tile flooring installation services are never outsourced to subcontractors, but performed by our trained, in-house technicians. By backing many of our completed installations with our Ultimate Confidence Guarantee, we encourage the complete confidence of our clients. This guarantee is our promise to you that if you are unhappy with your flooring or our installation, give us a call within 30 days of the initial install and we will replace it free of charge.
Contact us to learn more about our tile flooring selection. We proudly serve customers in Lewes, Rehoboth Beach, Millsboro, Dewey Beach, Bethany Beach, DE, and the surrounding areas.